Associate Director of Program Communications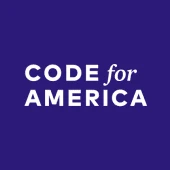 Code for America
Marketing & Communications
San Francisco, CA, USA · Remote · United States
Posted on Tuesday, July 11, 2023
Code for America believes government can work for the people, by the people, in the digital age, and that government at all levels can and should work well for all people. For more than a decade, we've worked to show that with the mindful use of technology, we can break down barriers, meet community needs, and find real solutions.
Our employees and active community of volunteers build and transform government and community tools and services, making them so good they inspire change. We merge the best parts of technology, nonprofit, and government to help support the people who need it most. With a focus on diversity, equity, inclusion, and deep empathy for partners in government and community organizations and the people that our partners serve, we're building a movement of motivated change agents driven by meaningful results and lasting impact. At Code for America, you contribute to exciting work while learning and developing in a supportive and flexible environment. Our compensation and benefits are holistic and thoughtfully curated to represent our employees and our mission. Help us drive real generational change that lasts.
We're hiring an Associate Director of Program Communications who is ready to help us amplify our work through exceptional social impact communications strategy. This will span across all of our programs, which includes safety net services, tax benefits, and criminal justice.
Code for America reached a voluntary recognition agreement with Code for America Workers United, affiliated with OPEIU (Office Professional Employees International Union, Local 1010), effective on October 22, 2021. We are currently engaged in negotiations towards our first collective bargaining agreement.
About the Role:
It will be your job to ensure each of these programs is crisply articulating their real-world value to our stakeholders— and importantly, aligning with Code for America's bigger narrative.
We want someone who can spot and shape compelling stories , then strategically elevate them. This includes showcasing the latest achievements of each program team, while also advancing their policy priorities and goals for system change within government.
As we scale, we need a leader with an eye on the horizon. This will mean using your communications expertise to position our programs for growth.
If you're strong on combining strategy with flawless execution and want to work with passionate, smart and kind people who care about fixing some of the biggest challenges facing our nation, this may be the job for you.
In this position you will:
Develop and execute strategic communications plans that advance the programmatic goals and mission of Code for America.

Create original content for internal and external communications, including but not limited to digital and print collateral materials, blog posts, white papers, web content, event communications, and others as assigned.

Help develop and prioritize proactive media relations campaigns to support program goals, including drafting op-eds, press releases and statements; and pitching stories, developing briefs, and staffing interviews.

Build communications strategies, and prioritize and integrate strategies when needed for cohesion and impact, to support the policy priorities for each of our program teams.

Support crisis communications responses as needed, including coordinating confidential information among stakeholders such as program teams, Code for America leadership, government partners and media.

Identify opportunities to reach new and diverse audiences, in addition to existing audiences.

Manage and draft content—including blogs, articles, web copy, reports, briefing memos, and marketing collateral—about program work and policy issues related to it

Provide communications guidance to program teams as they develop and implement advocacy strategies to enact policy recommendations

Represent Code for America in meetings and events with government partners, policymakers and other key stakeholders related to program work

Research and analysis of existing and emerging program opportunities to be supported by communications strategies.

Ensure brand messaging alignment and integration across all of Code for America's communications and media relations activities.

Drive engagement in programs, tools, and resources across stakeholder groups.

Collaborate with Marketing & Communications team members to create content for various platforms, events, initiatives, social media.

Identify spokespersons for media interviews and/or other public events; and ensure they are well prepared for media interviews and/or speaking engagements.

Handle confidential and embargoed information discreetly before it is released to the public and the media, ensuring announcements and news are released strategically

Help drive participation in and attendance to our annual Code for America Summit; and support the communications needs of our events.
About you:
8+ years of communications experience, preferably in a non-profit or government.

Experience creating, implementing and measuring communications outreach including media relations, social media, web, email, and print.

A strong writer who can take complex topics and distill them down for various audiences.

Organized, deadline driven, and able to manage multiple projects and engagement simultaneously.

Proven ability to partner with cross-functional teams like engineering, design, and data science.

Proven track record of delivering results using a user-centered, iterative, and data-driven approach.

Strong attention to detail and ability to juggle multiple competing priorities.

Proven management experience in a fast-paced, high-volume, resource-conscious environment.

A high level of self-awareness, humility, and emotional intelligence and are skilled at giving and receiving constructive feedback to and from direct reports and peers.

Ability to manage a diversity of stakeholders, including government partners, policymakers and media.

A willingness to travel when needed.
It's a bonus if you/have:
Experience working at a public relations or communications agency

Hill experience or experience working with legislative or administrative advocacy, government relations, public policy and advocacy groups and coalitions

Experience working with a social impact-focused team

Familiarity with product marketing operations and marketing automation platforms (e.g., Hubspot, Marketo, Mailchimp)

Experience writing for events

Experience with agile product development and working in iterative planning cycles

Written and verbal fluency in Spanish
What you'll get:
Salary:
Code for America's salary bands are transparent internally as a part of our commitment to diversity, equity, and inclusion. We are happy to extend this transparency during the recruitment process. As a part of our equitable hiring practices, we aim to target the midpoint of the 2nd quartile of the range for all new hires.
The targets for this role are dependent on the market/geographic location. The targets for this role range from $108,503 to $132,825.
Benefits and perks:
Values:

Leadership and teammates who value Equity, Inclusion, and Diversity (DE&I)

A collaborative, cross-functional, hardworking and fun environment

Medical & Retirement:

Full benefits package with 100% coverage towards select medical, dental and vision plans and contributes 80% of the cost towards dependent and family coverage

401k plan with matching funds up to 3%

Professional development:

Bi annual 360 review process alongside compensation reviews

$1000 annual (per calendar year) stipend towards professional development

A manager and org-wide structure that supports and enables professional development

Flexible Time:

Unlimited Paid Time Off policy

Flexible working hours- we aim to hold all internal meetings between 10 AM - 3 PM PT

Code for America employees may work remotely across the US

Code for America employees may not work remotely outside of the US at anytime during their employment

Employee enablement support:

$200 stipend in first paycheck for remote environment setup

Additional

equipment reimbursement of up to $500 for remote enablement

Cell phone and/or internet reimbursement of $50 per month
Equal Employment Opportunity:
Code for America values a diverse, equitable, and inclusive workplace and strongly encourages women, people of color, LGBTQ+ folks, people with disabilities, members of ethnic minorities, foreign-born residents, and veterans to apply. Code for America is an equal opportunity employer. Applicants will not be discriminated against because of race, color, creed, sex, sexual orientation, gender identity or expression, age, religion, national origin, citizenship status, disability, ancestry, marital status, veteran status, medical condition or any protected category prohibited by local, state or federal laws.