Senior Director of Product, Safety Net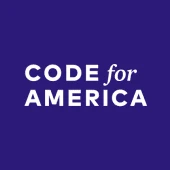 Code for America
Product, Sales & Business Development
San Francisco, CA, USA · Remote · United States
Posted on Saturday, July 22, 2023
Code for America believes government can work for the people, by the people, in the digital age, and that government at all levels can and should work well for all people. For more than a decade, we've worked to show that with the mindful use of technology, we can break down barriers, meet community needs, and find real solutions.
Our employees and active community of volunteers build and transform government and community tools and services, making them so good they inspire change. We merge the best parts of technology, nonprofit, and government to help support the people who need it most. With a focus on diversity, equity, inclusion, and deep empathy for partners in government and community organizations and the people that our partners serve, we're building a movement of motivated change agents driven by meaningful results and lasting impact. At Code for America, you contribute to exciting work while learning and developing in a supportive and flexible environment. Our compensation and benefits are holistic and thoughtfully curated to represent our employees and our mission. Help us drive real generational change that lasts.
Code for America is looking for a talented Senior Director of Product who will lead, set and drive alignment on the product vision and overarching roadmap for the Safety Net Innovation Lab and lead in the Lab formulating short, medium and long-term strategies that will maximize the tangible and measurable impact that Code for America's delivery work can have for people and for government.
Code for America reached a voluntary recognition agreement with Code for America Workers United, affiliated with OPEIU (Office Professional Employees International Union, Local 1010), effective on October 22, 2021. We are currently engaged in negotiations towards our first collective bargaining agreement.


About the Role:
The Safety Net Innovation Lab at Code for America is working with 15 states over 7 years on multiyear partnerships that will implement meaningful changes to the experience of applying for, using, and renewing benefits like Medicaid, SNAP, WIC, and childcare assistance.
The Senior Director of Product will collaborate alongside the other members of the Safety Net Leadership team in overseeing the strategy, operations, and overall impact of the Lab. This will include effectively presenting and communicating product strategy internally and externally, managing the critical tradeoffs and decision points facing the Lab, and helping our cross-functional delivery teams successfully hit milestones towards the bigger picture impact goals.
The right candidate should be highly skilled in leading, motivating and managing a talented team of product managers by providing them the resources and support necessary for them to be successful in leading their teams. The candidate will also work closely with senior leadership in establishing a shared product vision of how Code for America's work can lead to long term systems change across our broader portfolio through the products and services we build.
This role reports to the Senior Director of Product. This role can include travel up to 15% of time.
In this position you will:
Drive the product vision for the Safety Net Innovation Lab (25%)
Sell your vision for product upwards, downwards, laterally
Communicate product direction and decisions regularly and with clarity
Ensure each team in the Lab has a product vision and strategy aligned with Code for America's org strategy and values
Ensure our product strategies are aligned with program strategies
Lead and motivate high-performing product teams (25%)
Ensure the teams have the resources they need to succeed
Ensure the teams have a good understanding of client and partner needs
Ensure (in partnership with engineering) each vertical team is delivering value to users at a high velocity
Ensure each team is consistently delivering product artifacts (roadmaps, briefs, stories, etc)
Hire and manage a high-performing product management team (20%)
Hire, train, and motivate a great team
Fill key leadership positions on the team (managers, leads)
Define career development paths and expectations
Instill strong practices and techniques
Drive stakeholder alignment internally and externally (20%)
Partner with the Senior Program Director and the Safety Net Leadership team to define overall strategy for the portfolio
Collaborate with engineering and design to develop and evolve team processes that enable us to focus on the right things and execute efficiently
Communicate product vision and strategy to your team with clarity and enthusiasm
Build relationships with external partners and build the organization's credibility
Other duties as assigned (10%)
About you:
12+ years of experience in product management, with at least 3 years in a leadership role;
Proven track record of setting and executing on an ambitious and large scale product strategy in collaboration with design, engineering, and others in leadership;
Proven track record of delivering impactful web products in an agile environment, and leveraging technology creatively to improve the experience for partners and clients;
Experience collaborating with business and partnerships teams on successful go-to-market strategies to meet business and impact goals;
Experience in motivating, growing, and providing critical feedback to multiple product teams in delivering successful products;
Experience managing product managers who manage others, and setting up systems or operations to support your team;
Excellent written and verbal communication skills, especially in describing product management concepts to technical and non-technical audiences.


It's a bonus if you:
Have personal experience with or professional experience working within the social safety net or other mission-relevant government services;
Have experience with digital service technology in the public sector;
Have experience leading on bringing products from 0 to 1 with a revenue focus;
Are familiar with the civic tech / digital services ecosystem and an understanding of the movement, culture, history, and dynamics.


What you'll get
Salary:
Code for America's salary bands are transparent internally as a part of our commitment to diversity, equity, and inclusion. We are happy to extend this transparency during the recruitment process. As a part of our equitable hiring practices, we aim to target the midpoint of the 2nd quartile of the range for all new hires.
The targets for this role are dependent on the market/geographic location. The targets for this role range from $154,891 to $189,613.
Benefits and perks:
Values:

Leadership and teammates who value Equity, Inclusion, and Diversity (DE&I)
A collaborative, cross-functional, hardworking and fun environment

Medical & Retirement:

Full benefits package with 100% coverage towards select medical, dental and vision plans and contributes 80% of the cost towards dependent and family coverage
401k plan with matching funds up to 3%

Professional development:

Bi annual 360 review process alongside compensation reviews
$1000 annual (per calendar year) stipend towards professional development
A manager and org-wide structure that supports and enables professional development

Flexible Time:

Unlimited Paid Time Off policy
Flexible working hours- we aim to hold all internal meetings between 10 AM - 3 PM PT
CfA employees may work remotely across the US

CfA employees may not work remotely outside of the US at anytime during their employment

Employee enablement support:

$200 stipend in first paycheck for remote environment setup
Additional equipment reimbursement of up to $500 for remote enablement
Cell phone and/or internet reimbursement of up to $50 per month


Equal Employment Opportunity:
Code for America values a diverse, equitable, and inclusive workplace and strongly encourages women, people of color, LGBTQ+ folks, people with disabilities, members of ethnic minorities, foreign-born residents, and veterans to apply. Code for America is an equal opportunity employer. Applicants will not be discriminated against because of race, color, creed, sex, sexual orientation, gender identity or expression, age, religion, national origin, citizenship status, disability, ancestry, marital status, veteran status, medical condition or any protected category prohibited by local, state or federal laws.